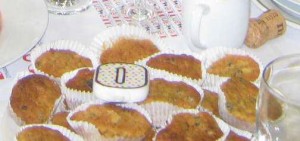 1 oz = 28g.
2 oz butter or marg

2 oz demerara sugar

1 tbs golden syrup

1 large egg or small one and some milk

3oz self raising flour

1 oz currants

Grated lemon rind – lots
Beat butter, sugar and syrup to a cream.  Add egg and flour then currants and lemon.  Mix well, cook at 177C (preheated) on the 'third runner' for 17 minutes.