13th November, 2015, Stevenage Museum
Researchers from Lancaster University, Nicola Spurling and Elizabeth Shove, held an event at the Stevenage Museum, looking at how energy use in everyday life has changed between 1950 and the present. Two specially produced booklets 'Daily rhythms and energy use in Stevenage' and 'Central heating comes to Stevenage' explain how project 3.1's archive and oral history work is relevant for contemporary energy challenges of peak demand and decarbonising heat. A talk was followed by a discussion in which participants shared memories of homes and daily life across the decades. The different kinds of home heating that Stevenage residents had lived with, and how that impacted daily life, was a key theme in the discussion.
The event was part of the ESRC Festival of Social Science. Our thanks to the Stevenage Musuem for their support in promoting and hosting the event.
If Walls Could Talk picture books:
If the Walls Could Talk: Central Heating comes to Stevenage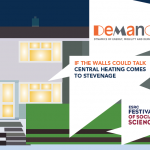 If the Walls Could Talk: Daily rhythms and energy use in Stevenage